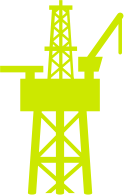 The harsh and remote environments in which the offshore oil and gas industry operates, require robust, reliable and explosion proof systems.
Mounted high above the water
the WaveGuide is equipped to measure wave height and direction regardless of the most extreme conditions. From the development phase onwards, wave data is needed to calculate the wave load in order to define the requirements of the platform design. During its operation years, the actual wave climate is logged to determine the expected endurance. Accurate analysis of the possible exploitation period can make an enormous difference in cost.
During exploitation, real-time wave information is used to make operational decisions. The motions of the ocean surface is of great influence on activities like maintenance and supply.
Accurate real time wave and tide data are used:
for construction requirements of the platform design
to determine construction and maintenance conditions
to support safe access to platforms from supply vessels
to calculate actual wave load and justify the lengthening or shortening of the platform's lifetime
Our customers in Offshore Oil and Gas include:
CNOOC – China
ENSCO PLC – USA
MODEC – USA
Shell
Keppel Fels – Singapore
RELATED PRODUCTS: 
Waveguide 5 Height & Tide | Waveguide 5 Direction
Case study:
Real time directional wave data for oil rigs
"As one of the largest Oil and Gas exploration and contracting services company with the largest fleet in the world, we were in need of a robust and precise Wave Monitoring Systems, to use both internally and also for operational purposes. We have compared several technologies and we came to the realization that Radac's Directional Wave monitoring system was the most suitable and reliable for our use.
Besides this commercially attractive solution Radac has an incredible satisfactory support and has shown the great interest to create custom solutions where needed for our fleet."
#waveradar #offshoreoil #offshoregas #ATEXcertified  #explosionproof #realtime #wavedata #wavemonitoring #oilrig #Radac #waveheight #wavedirection #wavemeasurement