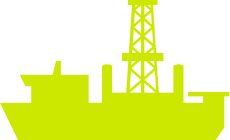 A significant advantage of the WaveGuide Onboard is the continuous availability of local wave data, especially at night, in rough seas and under heavy weather conditions with limited visibility.
Motion compensated wave monitoring
The onboard wave radar measures the waves as they are encountered by the ship itself. This data is ideally used to determine the operational limitations of the vessel in all conditions. Therefore, the efficiency of the operations will be boosted while the costs are kept low (compared to water-based solutions). Besides, a vessel in transit can adjust its speed and course to avoid critical headings.
Accurate real time wave data on the ship allow for:
safe deployment of (under-)water equipment
logging wave data for insurance and/or contract purposes
passenger comfort
monitoring the actual wave load on vessel to determine lifetime
FPSO's for safe supply while anchored
support for safe helicopter transfer
Our customers in shipping include:
Fugro
Technip
Allseas
Deme
Marin (Maritime Research Institute Netherlands)
Siem Offshore
RELATED PRODUCTS:

Waveguide 5 Onboard 
Case study:
TechnipFMC selects WaveGuide 5 Onboard
A very nice achievement of our team. "We are proud that TechnipFMC has selected Motion Compensated-real time Wave Monitoring Radar Systems for six of its vessels. We expect to equip the selected vessels within the year. Radac systems will provide crucial data as part of increasing operational efficiency and reducing down time." says Tuna Sener, Business Development manager of Radac.
"More and more companies decide that they want to monitor and track the wave data themselves when operating offshore. Not only real time wave data for decision making during those operations. But also as a proof for insurances and contracts. For example during pipelaying: when damages on the pipe show after say seven years, the wave data set can proof in what wave heights the operation took place" says our Business Development manager Tuna Sener.
#waveradar #realtime #wavedata #wavemonitoring #vessel #surveyvessel #TechnipFMC #Radac #pipelayingvessel #divingsupportvessel #onboard #waveheight #freeboard #wavemeasurement